Starling Protect adds 24/7 professional monitoring to homes with Starling Home Hub located in the United States. If a Nest Protect detects heavy smoke or carbon monoxide, or your Nest Guard alarm is triggered, our live agents will contact you by text and phone call. If you confirm the emergency or we can't reach you, we'll automatically dispatch local police or fire services to your property.
Starling Protect provides rapid emergency service dispatch when your home or life may be at risk, whether you're awake or asleep, at home or thousands of miles away.
Developed in partnership with Noonlight, the leader in home emergency response solutions, our service is UL-listed and TMA Five Diamond certified - the gold standard in professional monitoring services - and may qualify you for home insurance discounts.
How much does Starling Protect cost?
Starling Protect is free for the first month for new subscribers (limited time offer), then just $7.99/month, billed via the Apple App Store. A single subscription covers all the hubs and homes you own. Our service offers an industry first in providing monitoring for all your properties at a single low monthly cost. There are no minimum service periods, and you can cancel at any time.
What Nest products do I need to use Starling Protect?
One or more Nest Protects, or Nest Guard. Starling Protect offers fire department dispatch for Nest Protect alarms (smoke and carbon monoxide), and police dispatch for Nest Guard alarms. All models of Nest Protect and Nest Guard (plus Nest Detect) are supported, and there are no additional requirements beyond an active Internet connection for your Starling Home Hub.
| | | |
| --- | --- | --- |
| | and/or | |
Where is Starling Protect available?
Starling Protect is available for homes located in all 50 US states (including Hawaii and Alaska), plus Washington DC.
Does Starling Protect qualify for home insurance discounts?
Starling Protect provides professional home monitoring certificates (downloadable via the Starling app) which qualify homeowners for discounts with most home insurance companies. Many homeowners will find their insurance discount more than covers the cost of the Starling Protect subscription.
How does Starling Protect respond in an emergency?
If a Nest Protect alarm detects heavy smoke or carbon monoxide, or your Nest Guard detects an intruder, your Starling Home Hub will alert our 24/7 emergency response call centers. Within a few seconds, you'll receive a text message from us: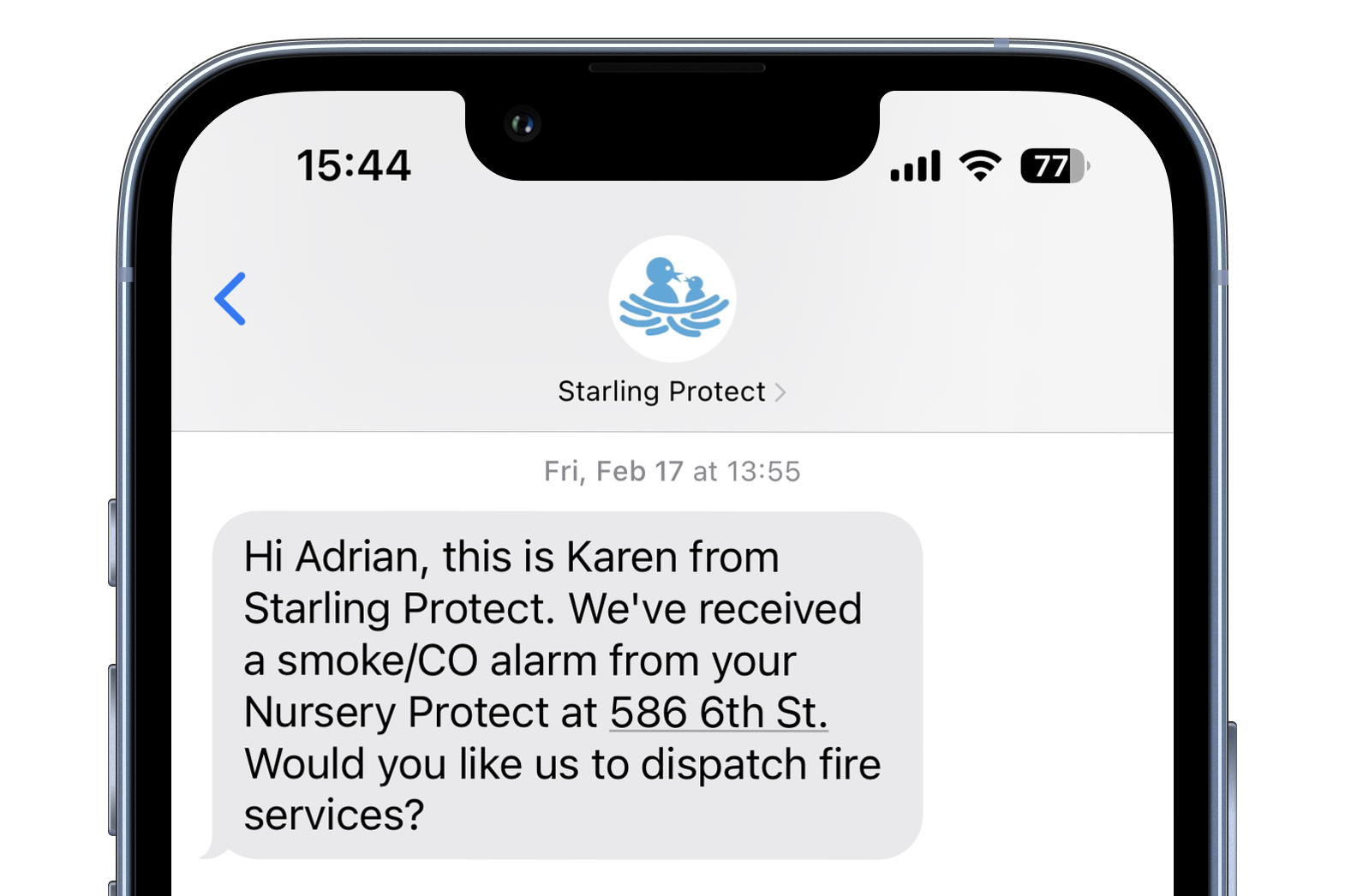 If you don't respond to this text message within 20 seconds, a live agent will call you. If you confirm the emergency, or you're unable to respond to our text message and phone call, we will dispatch your local fire department (for Nest Protect alarms) or police (for Nest Guard alarms) to your home.
If you tell us it was a false alarm, or cancel the emergency response from the Starling app, we'll stand down.
How do I subscribe to Starling Protect?
For a limited time, we are offering a free 1-month trial for new Starling Protect subscribers. Sign up risk-free, and if you don't want to continue with the service, simply cancel your subscription before the end of the trial period and pay nothing. After your trial, you'll be billed $7.99/month via the Apple App Store, and can cancel any time.
Signing up for Starling Protect takes less than a minute. Just go to the Starling app on your iPhone or iPad, navigate to the Starling Protect 24/7 Monitoring section, and press Subscribe. Then, follow the in-app instructions to enroll your home or homes. You can add any additional Starling Home Hubs (associated with your Apple ID) to your subscription at no extra cost.